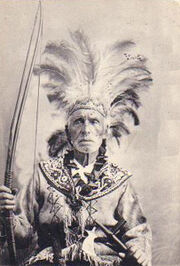 They occupied the country on both sides of Penobscot bay and river, and claimed the entire basin of Penobscot river. Their summer resort was near the sea, but during the winter and spring they inhabited lands near the falls, where they still reside, their principal modern village being Oldtown, on Indian island, a few miles above Bangor, in Penobscot county. A band living on Moosehead Lake, Me., was popularly known as Moosehead Lake Indians. That Indians of this tribe were encountered by navigators before the middle of the 17th century appears to be certain. Kohl (Discov. East Coast Am., 1869) says that Norumbega on the Penobscot was often visited by French navigators and fishermen from the Great Bank and that they built there before 1555 a fort or settlement. When more thorough exploration began in the 17th century the Penobscot chief, known as Bashaba (a term probably equivalent to head-chief), seems to have had primacy over all the New England tribes southward to the Merrimac. The residence of Bashaba at this period appears to have been somewhere in the region of Bangor, possibly at the Norunibega of early travelers. Champlain, who sailed up the Penobscot (called by hint Norumbega) in 1605, says: "Now I will leave this discourse to return to the savages who had led me to the rapids of Norumbega, who went to inform Bessabes, their captain, and gave him warning of our arrival." His residence must therefore have been in the neighborhood of the rapids. The Penobscot at this period seem to have been distinct from the "Tarratine," or Abnaki of Norridgewock, and at war with them, although since the English occupancy of the country they have always been known as a part of the Abnaki and have sometimes been specifically designated as Tarratine. The principal village, from which the tribe derived its name, seems to have been identical with Pentagouet of early French and English writers, situated on or near the site of Castine, Me. The various forms of Pentagouet and Penobscot are constantly confused in literature.
Ad blocker interference detected!
Wikia is a free-to-use site that makes money from advertising. We have a modified experience for viewers using ad blockers

Wikia is not accessible if you've made further modifications. Remove the custom ad blocker rule(s) and the page will load as expected.