Before contact with
Europeans
, the Kickapoo lived in
northwest
Ohio and southern Michigan in the area between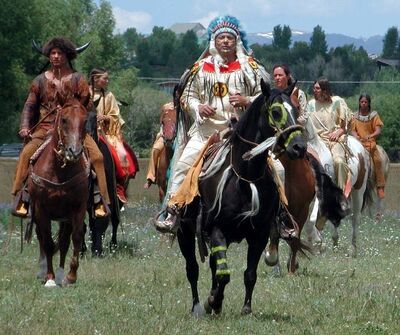 Lake
Erie
and Lake Michigan. By common tradition, the Kickapoo and Shawnee believe they were once a single tribe but separated after an argument over a bear's paw. When the white man pushed west, the Kickapoo migrated, first to Wisconsin, then
Illinois
. By treaty, they were relocated to southern
Missouri
, but less than have stayed, wondering south and west. Fiercely independent, many Kickapoo people fled all the way to Mexico rather than surrender to the Americans. Of those that went to Mexico, approximately half returned to the United States and were sent to Indian Territory in Oklahoma. Currently, there are three federally-recognized Kickapoo tribes: the Kickapoo of Kansas; the Kickapoo of Oklahoma; and the Kickapoo Traditional Tribe of Texas.
Ad blocker interference detected!
Wikia is a free-to-use site that makes money from advertising. We have a modified experience for viewers using ad blockers

Wikia is not accessible if you've made further modifications. Remove the custom ad blocker rule(s) and the page will load as expected.