Arendahronon - One of the four
chief
tribes
of the Huron Indians, their names means "rock people." Being located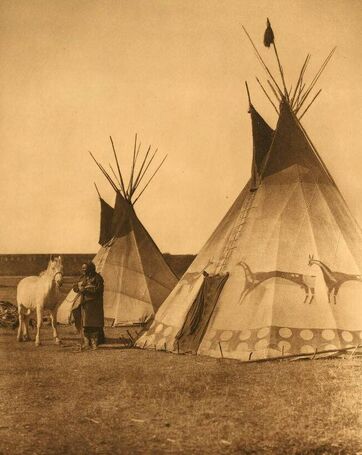 more to the east than the other Huron people, they claimed to be the first allies of the French, who founded among them the missions of St Jean Baptiste, St Joachim, and Ste Elisabeth. In 1649, on the political destruction and expulsion of the Huron tribes by the Iroquois, the inhabitants of St Jean Baptiste submitted in a body to the Seneca, who adopted them.
This semi-nomadic group lived in tepees on the plains of South Dakota for several hundred years. Primarily an agricultural society, corn was their main crop and was so important it was often referred to as "Mother Corn." In 1823, the Arikara, frustrated with traders encroaching upon their lands, attacked a group of white travelers, resulting in the short-lived Arikara War. In the late 1830's, the tribe was almost destroyed by small pox. In the 1870's they were forced by the Sioux out of the Black Hills and migrated into North Dakota where they began to work closer with the Hidatsa and Mandan tribes who inhabited the area. Today, they are still associated with the Hidatsa and Mandan, known collectively as the Three Affiliated Tribes. The Arikara live primarily on the Fort Berthold reservation in North Dakota.
Ad blocker interference detected!
Wikia is a free-to-use site that makes money from advertising. We have a modified experience for viewers using ad blockers

Wikia is not accessible if you've made further modifications. Remove the custom ad blocker rule(s) and the page will load as expected.